LAST MINUTE EMERGENCY ESTATE LIQUIDATION AUCTION!
THURSDAY MAY 6, 2021
THIS LAST SECOND LIQUIDATION IS A FORCED SALE BY THE ESTATE! THE CHILDREN LITTERALLY REMOVED THE PARENTS TO BETTER CARE FOR THEM JUST TODAY! EVERYTHING IN THE HOME IS EXACTLY AS THEY LEFT! OUR VIDEO IS EXACTLY AS IT WAS LEFT! NOTHING TAKEN EXCEPT THE CLOTHING AND BELONGINGS THAT WOULD FIT IN THIER LUGGAGE! WE HAVE BEEN DIRECTED TO SELL EVERYTHING IN THE ESTATE AT NO MINIMUM AND NO RESERVE AT PUBLIC AUCTION ON THURSDAY MAY 6TH!
THE ENTIRE CONTENTS OF THIS AMAZING GOLF COURSE HOME IN "THE REFUGE" WILL SELL TO THE HIGHEST BIDDER! YOU WILL NOT WANT TO MISS THIS AUCTION AS WE WILL BE SELLING ROOMS LIKE THE BATHROOMS, THE PANTRY, AND CLOSETS ALL FOR ONE BID EACH!!!!! THIS IS A VERY RARE OPPORTUNITY TO PURCHASE THE CONTENTS OF AN UN TOUCHED ESTATE AT NO MINIMUM OR RESERVE!
ADDRESS IS 3537 N. WINIFRED WAY, LAKE HAVASU CITY, ACCESS THROUGH GATES IN THIS COMMUNITY WILL ONLY BE GIVEN TO THE PUBLIC ON AUCTION DAY AFTER 8AM! YOU MUST STATE THAT YOU ARE GOING TO THE ESTATE SALE TO PASS THROUGH THE GATES AND THE SECURITY GUARD ON SALE MORNING ONLY! NO OTHER ACCESS WILL BE GRANTED PRIOR OR POST AUCTION!
AUCTION WILL BEGIN PROMPTLY AT 10:00AM AND WILL TAKE APPROX 2.5 HRS. COME PREPARED TO HAUL AS ALL ITEMS MUST BE REMOVED ON SALE DAY UNLESS PRIOR ARRANGEMENTS ARE MADE WITH AUCTIONEER!
SEE OUR VIDEO OF THIS HOME AS IT WAS LEFT !!!! Click on this LINK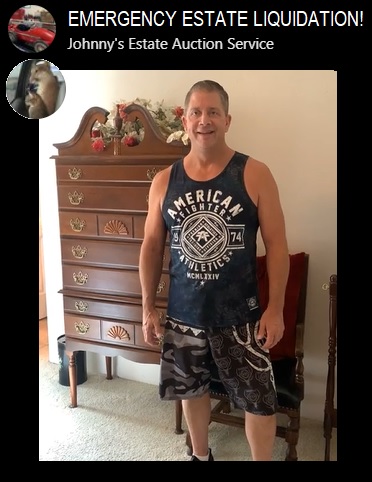 THEN SEE PHOTOS OF WHAT WE FIND AS WE ARRANGE THIS AMAZING ESTATE FOR AUCTION BOTH ON PHOTOS HERE ON OUR SITE AS WELL AS ON VIDEO! WE WILL KEEP YOU UPDATED!